5 Things I Wish I Knew Before Going to Bonnaroo
First time going to the magical farm ground known as Bonnaroo? We've got your back with our cheat sheet on what to wear and pack, how to have the most fun camping, and two DIY that will help make your Bonnaroo experience one to remember.
1. What To Pack
In the fields of Manchester TN, things get messy. It's hot, it's dirty...and by day three, you are stripping down to as minimal clothes as possible. You want to dress cute but you also really want to stay cool. Stay away from dark colors, get some shade with a wide brimmed hat & sunnies, carry a cross-body bag or backpack for easy travel, say no to sandals and yes to closed toe booties, and wear something light and easy such as a romper or crop top with patterned shorts. Here is what we're packing: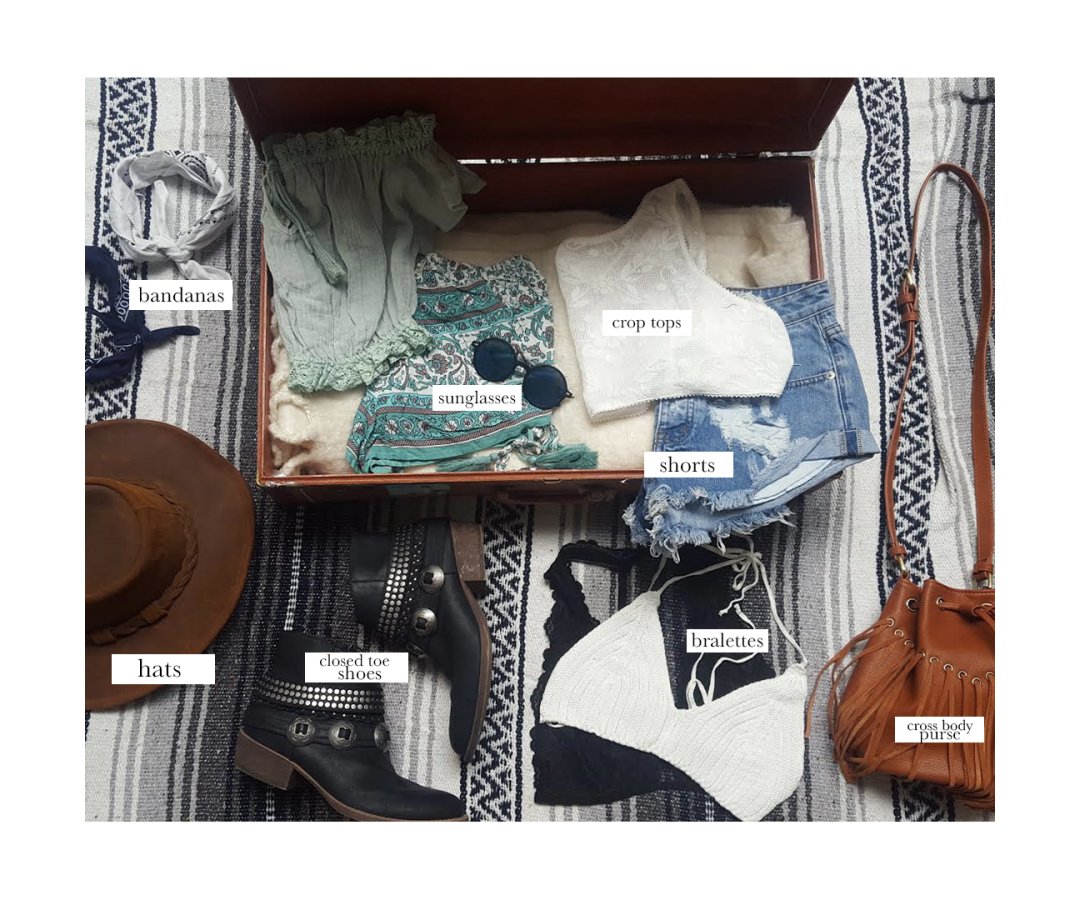 2. Survival Kit
Thank us later.
While many musical festivals offer on-sight camping, Bonnaroo's little tent city is a whole world of it's own. Camping brings a new excitement to this four day festival but also brings many challenges if you do not properly plan. So make yourself at home and think of all things you can't live without. Here are some of our suggestions:
Air Mattress or hammock - sleeping on the hard ground will get old quickly
A battery powered fan (add on a mister for extra cooling & bring batteries!)
A small foldable table - for items you don't want to leave sitting on the ground
Lots of blankets & pillows - use as sun shade, decor or just to get comfy
Towels - for showers, sweat & possible rain
Tarps & Rain Gear
4. Stand out in the crowd with a totem
You are pushing to the front to see The Dead when you look back and realize one of your besties has been lost in the sea of 80,000 people. No worries...our Dream Catcher Totum will easily help her find your crew, and it's really pretty.
Keep an eye out for our DIY Dream Catcher Totem blog post coming next week!
5. Revamp your festival blanket
The most popular item to bring to any festival is a patterned tapestry or blanket. However after hours of lying in the grass, they get muddy, wet and even before day one is over, your blanket is ruined. We learned the hard way and discovered that you need a little more than just a blanket to survive Bonnaroo and have come up with a few hacks that will make your festival experience that much better:
Attach a waterproof tarp to the bottom of your blanket. No need to break out your sewing machine, just attach the tarp with "no-sew" glue and it will last you all weekend. Soggy blankets... NO MORE!
Gather fabric or even strips of old graphic tees to create a braided carrying strap. Wrap around your blanket and comfortably carry over your shoulder. Then hop from stage to stage without a worry in the world.
You are officially ready for Bonnaroo. But before you head off to have the best time of your life, follow up with our DIY Totem Blog coming next week!